When the chips are down, and the hard drive is fried, it's time to wonder why I bought such a potato PC. Yes, folks, today is 'National Potato Day'.
Interesting potato fact no1: According to the Guinness Book of Records, the largest recorded potato weighed in at a carb fueled 4.98 kg (10 lb 14 oz). After a difficult birth, both mother and tuber are both well.
Right, time to see what we have been mashing, hashing and boiling this week in the tuberific world that is DOTI…
Momentous Musical Moments
This week's inspiring interlude to incite illicit imagery is aptly titled 'Fear of the Unknown'
Interesting potato fact no2: The potato was the first food to be grown in space, would that make them 'spudniks'?
Ghost Rider
Following on from last weeks first peek at the new upcoming motorcycle, we have a short video of the two-wheeled wonder being put through its paces by our resident poltergeist. The Dilligaf 750V 'Inca' a four-cylinder Vee engine, twin exhausts and even seating for a pillion passenger.
There are also unconfirmed rumours from within Dilligaf Motors that there may be a sidecar option in the works for those epic 'father and son' getaways!
We can think of no better way to enjoy the apocalypse than racing down the open highway with the clean mountain air in your face sat astride this beautiful beast…even if your dad does insist on tagging along!
Interesting potato fact no3: It is believed that the Incas people of South America, used potatoes to measure time, based on how long they took to boil. In today's modern world, we continue the practice with the microchip.
Furnishings, Fixtures and Fittings
Once again, we bring you a selection of items being created by the peeps down in the prop department. First up is a furniture collection you that provides all the luxurious comforts of home with a classic natural wood look. The range includes everything you need to make your home feel cosy and welcoming, and there's even a couch to hide behind when the infected come a-knocking!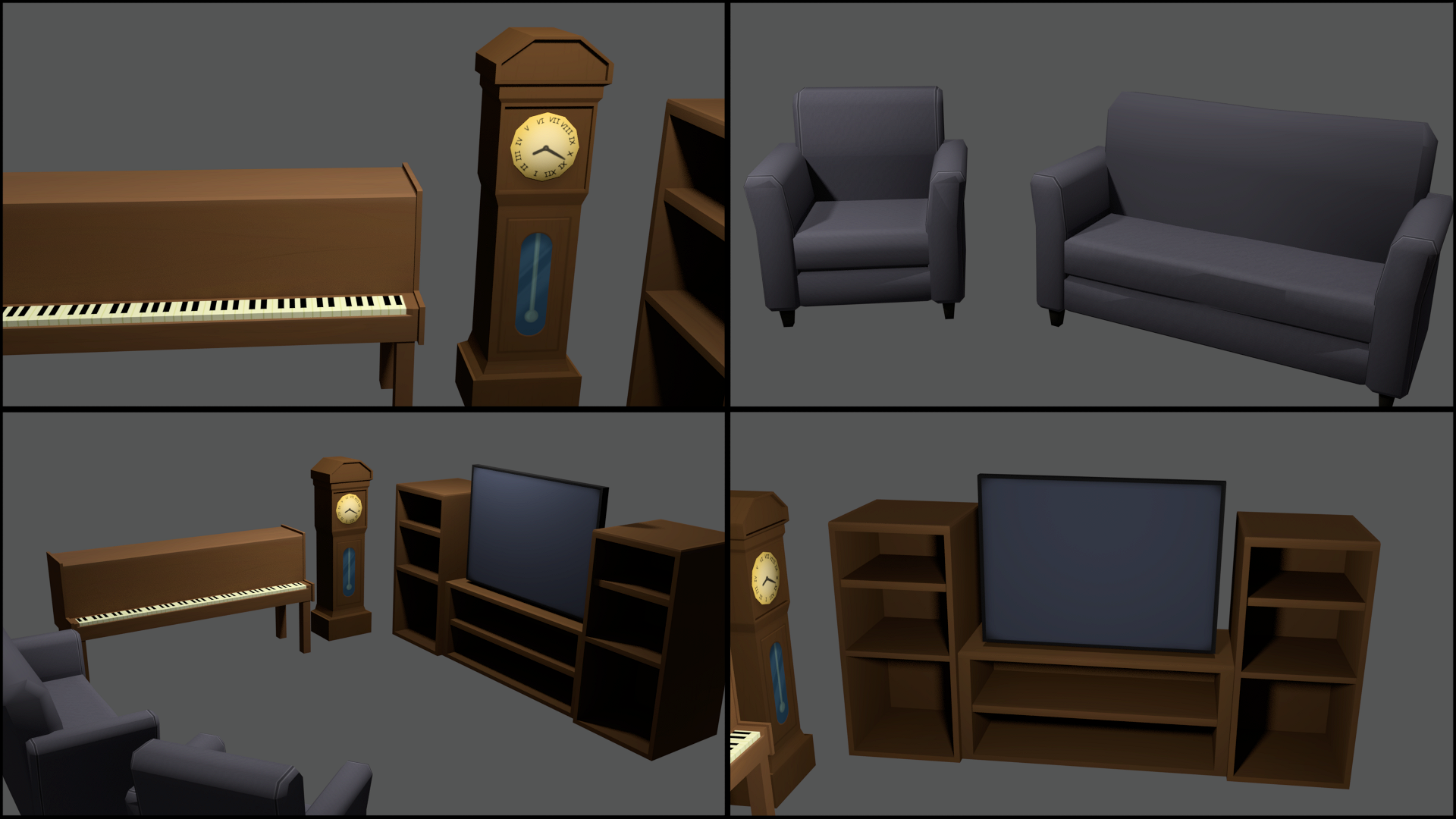 Whether at home or work, study or office, we have you covered with everything an enterprising executive or budding author could wish for…well except for that coffee making personal assistant!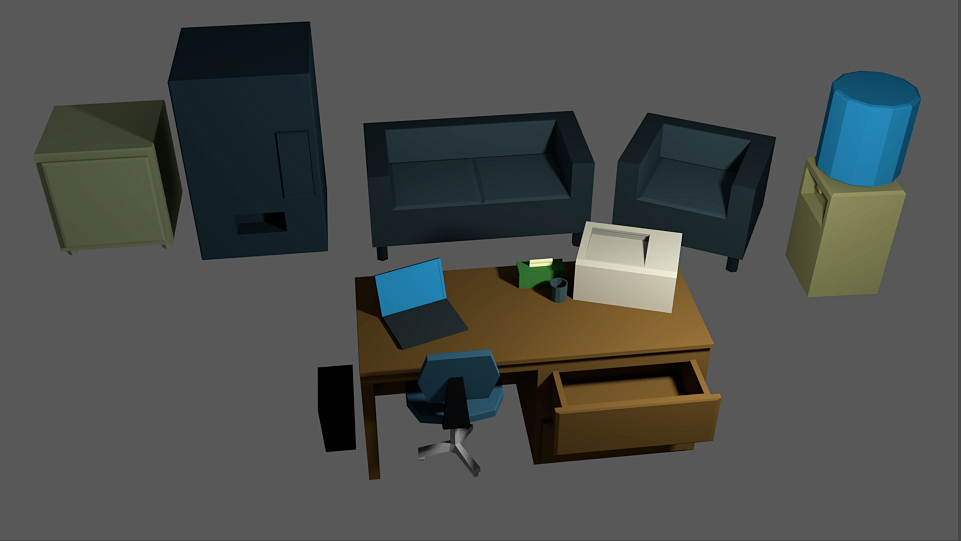 Interesting potato fact no4: The potato has forever changed our diet, and reshaped humanity…some have unfortunately been reshaped a little more than others! 
Firearms, attachments and modifications
The folks down at the Holy Fire armoury have been busy this week, remodelling our extensive range of firearms. It seems that Bonnie and Clyde, our new model citizens, are not built quite the same as our previous roleplayers.
The image below shows a breakdown of one of our weapons; it's component parts, attachments and available modifications. As with all our weapons, combined they come together to make the perfect tool for efficient eradication of the infected, offing of outlaws and wasting of wildlife…watch ya back, Bambi!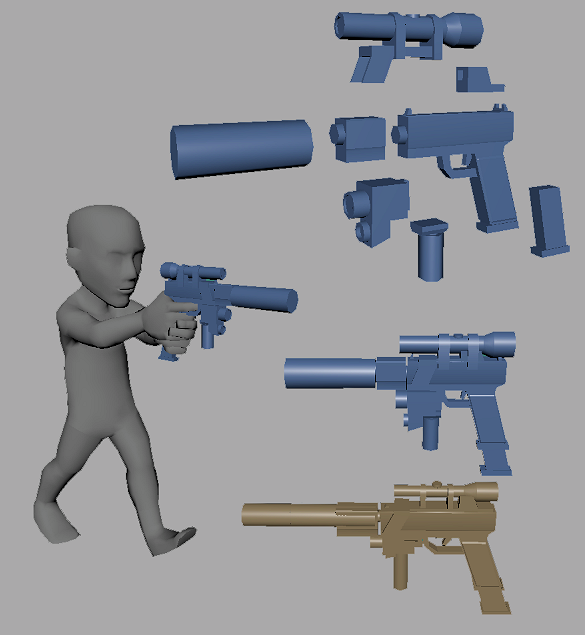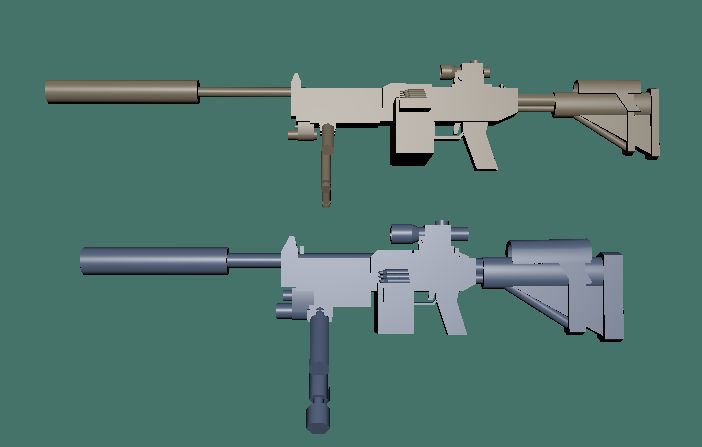 * Weapons shaded in blue are the new sleeker versions
Also in the works…
The SFX team continue to focus on vehicle audio before turning their attention back to the ambient world sound effects to bring Canard county to life.
We are fine-tuning our character camera which, amongst other improvements, will allow the more narcissistic self-obsessed amongst you fulfil that need to admire yourself.
 Our website revamp project is still ongoing; we hope to have it ready for public viewing in the not too distant future.
Finally, the animation department continues to tweak, smooth and polish the animations for our new character model.
So, fellow spud lovers, we have reached the end of yet another energy-filled, calorific and earthy edition of the Infected Files. Join us again next week when we will once more peel back the outer skin and reveal the inner goodness that is the deep-fried world of 'The Day of the Infected.'