How To Play
Day of the Infected is still in early development. This page will continue to evolve and be updated as we progress through our development stages. Below are some great tips to help you get started with our game!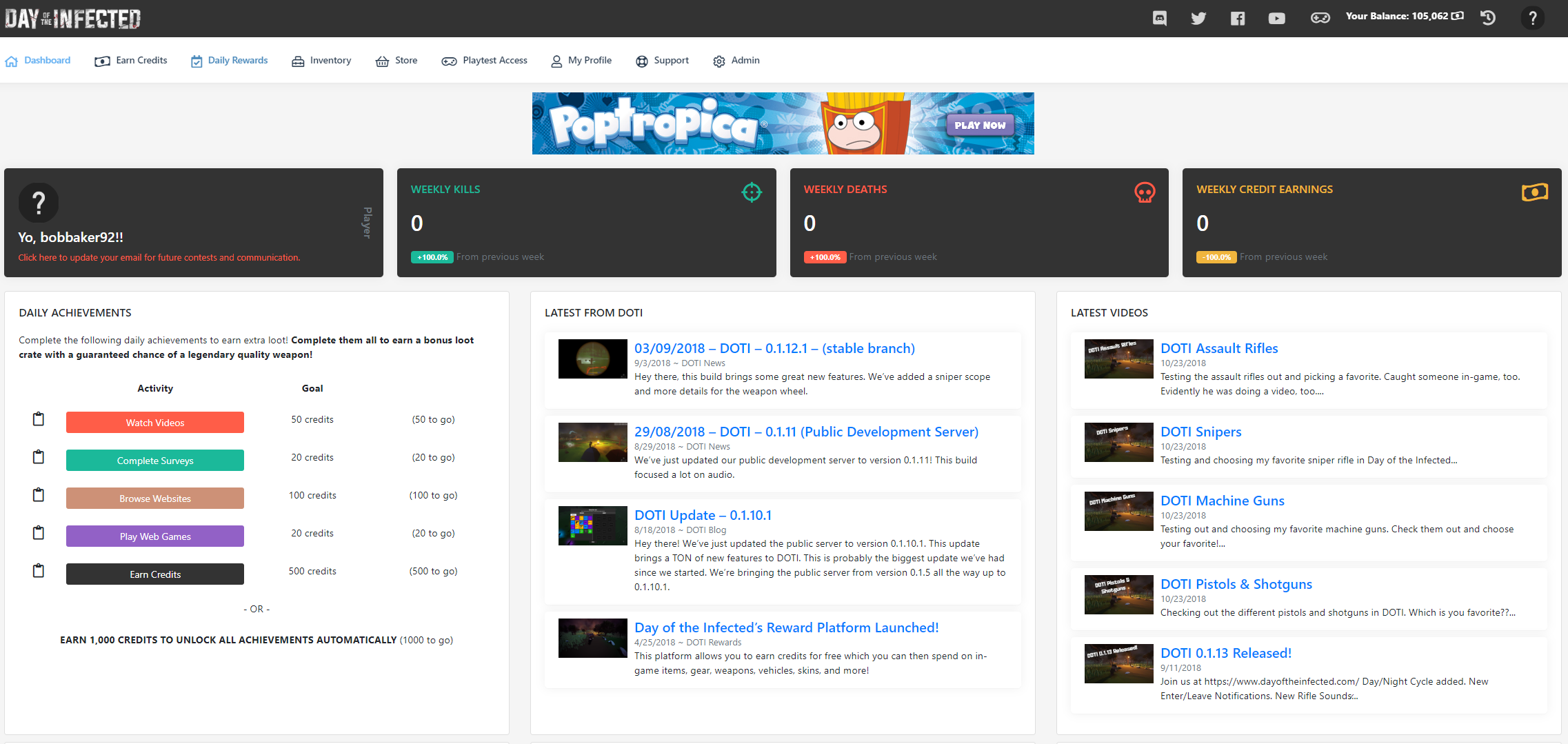 Use The Rewards Platform
Day of the Infected is 100% free to play, and always will be. Everyone has the same opportunities to get access to the best gear in the game. Be sure to check out the rewards platform to grab your favorite weapons to bring into the battle. Every time you spawn in DOTI you have the chance to bring any weapons or gear into the battle. Having your favorite weapon at hand right when you start will give you the upper hand against your foes!
You'll always be able to find gear and weapons in-game without using the rewards platform as well, but to always have your trusted weapon handy, the rewards platform is extremely useful, and allows us to keep DOTI free!
Learn The Default Controls
Be sure to check out the default controls before you jump in the game! We're working on the ability to remap the controls which should be available soon.
If you change your mouse sensitivity, you might need to restart the game for it to take effect.
| Command | Key |
| --- | --- |
| Up | W |
| Down | S |
| Left | A |
| Right | D |
| Jump | Space |
| Look Up/Down/Left/Right | Move Mouse |
| Fire Weapon | Left Mouse Button |
| Aim Weapon | Right Mouse Button |
| Crouch | C |
| Reload | R |
| Zoom In/Out | Mouse Wheel |
| Zoom In to Original | Q |
| Sprint | Hold Shift (while running) |
| Weapon Select | E (to show weapon wheel) |
| Pick Up Objects | F |
| Push to Talk | T |
| Main Menu | Escape |