Greetings you lucky, lucky, people…Welcome to the first official bi-weekly developers report, filled with sweet fruits and unhealthy goodness!
Trip the Light Fantastic!
We have been making a significant upgrade to the lighting in 'Day of the Infected'. This will allow for better use of real-time lighting and provide dynamic control, based on materials and the day/night cycle. It will deliver a more natural feel to the world within the game as day fades to night and back again. We think you will agree that, as the GIF below demonstrates, it looks great!
Sound Bite
Our audio team are currently working on the ambient sound for the 'Whiplash' map alongside vehicle SFX for the 'Mammoth' Armoured Personnel Carrier in readiness for its inclusion in the recently introduced vehicle demo mode.
We are also continuing the ongoing process of linking audio assets into the games settings menu.
Environment
The current 'Whiplash' map has been receiving some love this week including work on terrain smoothing. While this may lower a player's ability to climb, it will aid in preventing them becoming stuck within the environment and the inevitable tsunami of salty tears.
The team are also hard at work fixing, tweaking and improving the environment, including raising the height of walkway railings to protect players against the risk of accidentally falling off, we wouldn't want to deprive those snipers of their fun now, would we?
Vehicles
The folks down in the workshops have been getting their hands dirty working on new vehicles to add to our current lineup while ironing out scaling issues within our present fleet.
A recent new addition, hot off the production line, is the 'Chevrolet Cheyenne' inspired model pictured below. We still haven't named it so we are open to suggestions…maybe you could post your ideas on our Discord channel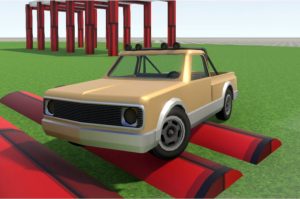 Other work in progress
We are also creating a new 'King of Hill' style game mode that is designed to concentrate players on single objectives and deliver a more intense combat experience.
Work has also begun on a new player model that will make for a much more 'rounded' character.
Stay tuned for more news on these and other exciting developments as we get nearer their completion.
A Tall Tale in the Telling
Work also continues on the mission system for the planned 'Simulation Mode'. A full story mission line is being created that will directly affect the outcome and events within each simulation. In addition to the story missions, we are also working on a host of secondary missions that will provide further respite from the combat aspect of the game.
There will also be a full back story set within the DOTI world for those with a fondness for lore. The story will be delivered in short story form and will be accessible via the DOTI HQ wiki (coming soon) and our website, the first installment can be read here The Beginning of the End
Have your say!
The current development poll is still open for anyone wishing to have a say in how we target our priorities for existing and future builds. At the time of writing, 'Damage multipliers' are the top pick with 'Hit direction indicators' coming in a close second for this build and it seems there is a three-way tie for the areas we will be targeting for the next public build.
We really appreciate your feedback so if you want to have your say and help us build a great game, please visit the poll here Development Poll
Thanks to all of you for your support and we look forward to exchanging gunfire with you in-game.